The world is a busy place. Ha! That's probably an understatement. The world is moving like a man possessed. In this cacophony of the chaotic world, endless amount of information is floating. Millions of products and trillions of services are constantly being thrown at us in form of advertisements and other avenues. So, if you sit in your cozy cabin and think that your clients would come to you, you are very very mistaken. As a company, it is your job to go where your consumers are. Today's consumers are quite overwhelmed with choices, to say the least and if you are not interacting with them on their own turf, you are doing your business a huge disservice. Whether or not, your products or services are the best, the ball is always in your consumers' hands. They decide the channels they prefer and the kind of interaction they want and obviously, if you want to sell, you need to go where your customers are. And right now, they are on mobile. Mobile devices have become a stable in our lives and there is no better time to tap into the market of
mobile
than now! Mobile marketing is relatively untapped and harnessing its power to market your business can give you an edge over your competitors. Read on to know about the best mobile marketing strategies.
Mobile Strategies
When you are deciding on your mobile marketing strategies, there are a number of factors that you need to take into consideration. Check out the tips below to learn the best strategies for mobile marketing and how you can implement them.
First things first, you need to decide on what you want to achieve through your mobile strategy. Do you want to gain leads, subscriptions or registrations? Whatever be your goal, define them clearly and then create your marketing campaigns accordingly. For instance, if your goal is more subscription, ensure that your content is readable and viewable on the mobile devices. You could also send messages when a new content gets uploaded on your website. Research on what floats within your market and then decide on the medium (like messaging or emails) and the frequency.
Ensure that the design of your application or website is user-centric.
Offer mobile first and mobile only discounts and special sale. Understand that unlike desktop where people generally have much room to explore, mobile phones have comparatively small memories and any application which fails to impress them could end up getting uninstalled.
Keywords are not just for content. When you want your prospects to find your business, ensure that you are using the most searchable keywords for your business. Keep the keywords small and include your local area as more often than not, mobile customers typically search locally.
You also need to ensure that your application or website is responsive and compatible to all popular devices.
Employ hyper-localized marketing strategies. With hyper-localized strategy, you would be able to offer more personalized and relevant info to your consumer.
You can also incorporate QR codes which are coded symbols which upon scanning takes a visitor to a specific content.
Include easy to press call-to-action buttons. Add in contact information if you are a local business and add in map for easy access to your brick-and-mortar outlet.
The mobile marketing landscape is pretty new and still evolving and so incorporating solid strategies would ensure that your business gets a leg up your competitors. Want help devising mobile marketing strategy? Get it touch with us, now!
Subscribe For Latest Updates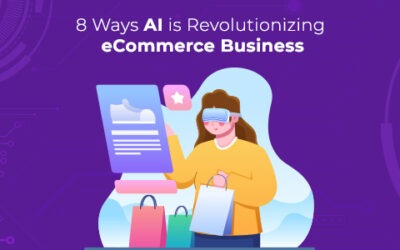 AI is not a part of high-end sci-fi movies anymore. It's for real. From automated cash registers to high-end security verification at the airport, AI is gaining a deeper grip on almost every business sector. How can eCommerce stay untouched? Here are some of the most...