Using cloud for content creation and management offers greater degree of flexibility to the organizations. By lowering their IT expenses and speeding up the deployment process, cloud helps organizations live up to the constantly changing market needs. This makes it all the more important for businesses. Using cloud consulting services for content management can encompass several things ranging from the use of cloud products for web content management to facilitating the language search analytics using cloud based applications to the use of cloud based tools meant to enable management processes and social collaboration for enterprises. Additionally, it is possible for an organization to have its enterprise content management based on the cloud infrastructure.
With the promise that cloud consulting services hold for the different aspects of content creation and content management for enterprises, the number of enterprises using cloud technology for content management is set to increase multiple times in the next couple of years. There may seem to be genuine security and integration concerns related to implementation of cloud technology in content management, we are certainly witnessing an increasingly positive sentiment for it across markets. All the web content management vendors now deliver their offering by means of cloud. However, before we are able to make the most of their offering, we first need to understand how the vendors support cloud.
As discussed ahead, the vendors can choose to deploy cloud in any of the three ways.
In case of Cloud Hosting, the customers are generally allowed to host their products in places such as AWS, Azure or Rackspace by their content management vendor, where, while the hardware and network is supported by the vendor, the customers need to take care of the concerns such as scalability, reliability and security.
When providing the customers with Managed Services, the vendors offer an added level of support over and above their hosting service offerings. In case of such an arrangement, the vendor is responsible to look after certain elements of security as well apart from managing the application stack and the Operation System updates etc. Typically backed by a Service Level Agreement, in this case the customers get to enjoy significantly high uptime for their website.
Some vendors on the other hand, build a PaaS or a SaaS that is specifically attuned to satisfying their clients' digital experience management needs. Such custom software or platforms are designed to equip the customers with enormous operational efficiencies along with the expected features of scalability and flexibility, wherein the vendors will offer end-to-end solution for content management on the cloud.
Regardless of what deployment model you opt for, the best part about opting for cloud consulting services to take your content management on the cloud is that the cloud companies generally operate on a subscription based model. Herein the customers can purchase subscriptions for the software use that can be renewed annually. In this way, they get the flexibility to decide each year if they wish to continue with the software usage. And in our opinion, now would be the perfect time for every business worth its salt, to make the much needed shift from the legacy on premise software to cloud, if they were to enjoy growth in operational efficiency, flexibility, future scalability. And as your business decides to take the plunge into cloud services for web content management, do get into the details of how and precisely, to what degree would your prospective vendor be addressing to your specific business needs.
Subscribe For Latest Updates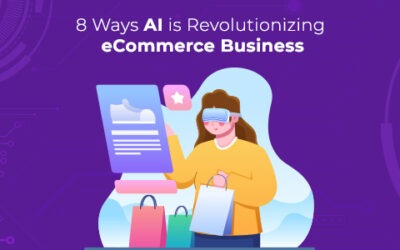 AI is not a part of high-end sci-fi movies anymore. It's for real. From automated cash registers to high-end security verification at the airport, AI is gaining a deeper grip on almost every business sector. How can eCommerce stay untouched? Here are some of the most...